Ecuador's president to hand Assange over to UK during London visit – Greenwald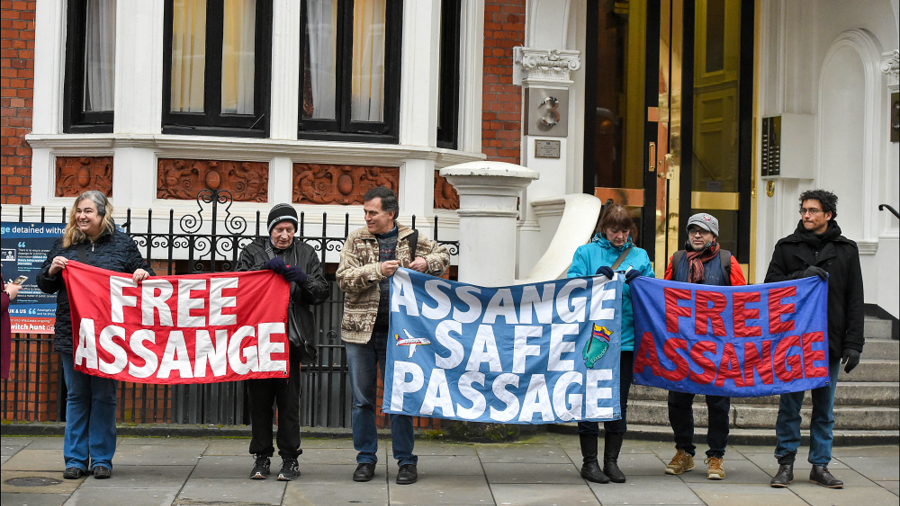 Ecuadorian President Lenin Moreno is either about to strike or has already struck an agreement with British authorities on withdrawing the asylum protection of WikiLeaks founder Julian Assange, Glenn Greenwald reports.
Moreno is visiting the UK as part of his European trip between July 22 and 28. His visit is not said to be an official one, so he is not expected to meet with any high-ranking UK officials and would instead participate in the Global Disability Summit on July 24, which is co-hosted by the UK government.
However, the Ecuadorian leader is also expected to use his trip to the British Isles to "finalize an agreement under which Ecuador will withdraw its asylum protection of Julian Assange," according to the Intercept's co-editor, Glenn Greenwald, who is best known for a series of reports detailing the US surveillance programs based on the documents leaked by Edward Snowden. Greenwald also supported and defended Wikileaks, as well as the whistleblowers who provided materials for the website, for many years.
Moreno is "close to finalizing, if he has not already finalized," the agreement, Greenwald writes, citing an unnamed "source close to the Ecuadorian Foreign Ministry and the President's office." Under this agreement, the WikiLeaks founder could be ejected from the Ecuadorian Embassy and handed over to the UK authorities "as early as this week,"Greenwald says.
Earlier, RT editor-in-chief Margarita Simonyan said, citing her own sources, that Ecuador is ready to hand Assange over to the UK in "coming weeks or even days." According to Greenwald, such a development could lead to Assange being sent to jail for at least one more year "under his best-case scenario," which would mean that he would have spent nearly a decade imprisoned "despite never having been charged with, let alone convicted of, any crime."
As Sweden dropped its sexual assault investigation against Assange back in May 2017, the only criminal proceeding he is now facing in the UK is a pending 2012 arrest warrant for "failure to surrender." It goes back to Assange obtaining asylum from Ecuador and finding refuge in the Ecuadorian Embassy instead of complying with bail conditions in the UK.
Such an offense carries a prison term of three months, Greenwald says, warning, however, that the UK authorities could potentially elevate charges against Assange to "contempt of court," which carries a prison term of up to two years. Besides, UK authorities are unlikely to provide a guarantee that the WikiLeaks founder would not be extradited to the US, which is apparently bent on imprisoning him for releasing classified documents.
Publication of classified materials is technically a crime for anyone in the US, but US Department of Justice officials have been reluctant to prosecute anyone on such charges so far, due to concerns that such a case could lead to them being accused of violating press freedom rights and, thus, the First Amendment.
However, the Trump administration has seemingly made clear that they have no such concerns. While he was still in charge of the CIA, Mike Pompeo once said that while WikiLeaks
"pretended that America's First Amendment freedoms shield them from justice . . . they may have believed that, but they are wrong.
"