5 things you should know about US-led 'one-time' strikes on Syria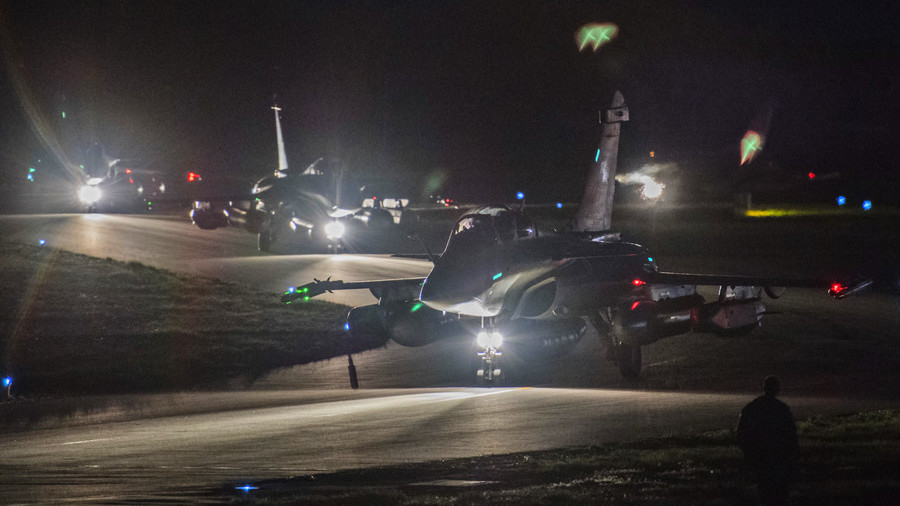 Multiple targets in Syria were bombarded by the US, UK, and France in retaliation to what they said was an Assad-orchestrated chemical attack near Damascus. Here are the main facts about the intervention.
Washington approved "precision strikes" against Syria early on Saturday, alongside British and French forces that also took part in the bombing. Shortly after US President Donald Trump announced the bombardment, reports began surfacing of explosions in Damascus.
Syrian air defense units were scrambled to thwart the aerial invasion, intercepting 71 out of 103 of the missiles, the Russian Ministry of Defense said. Now, as Syria deals with the aftermath of the early morning airstrikes, we look at five major things you should know about the American-British-French attack.
What did they target?
One of the strikes targeted a scientific compound in Barzeh in the vicinity of Damascus, which the coalition claimed was involved in the production of chemical and biological weapons. The Syrian government said the bombing destroyed an education center and scientific laboratories, but resulted in no casualties.
The UK Defense Ministry said four Royal Air Force Tornado GR4s launched Storm Shadow missiles at what the UK military claims was a former missile base, 15 miles west of Homs. The ministry claimed that the Syrian government kept a stockpile of chemical weapons precursors at the site.
Twelve cruise missiles targeted Al-Dumayr air base east of Damascus, according to the Russian military. The Syrians used Soviet-made S-120, S-200 and Buk-type anti-aircraft systems, claiming to have intercepted all the missiles.
What weapons were used?
The US did not specify the types of weapons deployed in the strikes, but it did use Tomahawk cruise missiles in last year's bombing of Syria's Shayrat air base. US Defense Secretary James Mattis saidmore than twice as many weapons were fired as in April 2017, adding"it was a heavy strike."
The Russian Defense Ministry said the US and its two allies deployed combat aircraft and warships to launch over 100 cruise missiles and air-to-surface missiles on Syrian civil and military facilities. The strikes, it said, were conducted by two US ships traversing the Red Sea, adding that the coalition also deployed B-1 Lancer strategic bombers and arranged tactical air support in the airspace over the Mediterranean.
Social media & 'classified' intel: Pretext for the intervention
The timing of the American-British-French attack is noteworthy. It came just hours before the UN's Organization for the Prohibition of Chemical Weapons (OPCW) experts were set to visit the Damascus suburb of Douma on Saturday to establish whether chemical weapons had been used there last week.
Announcing the strikes, the White House said it has a large body of "reliable intelligence" as well as "social media users, non-governmental organizations, and other open-source outlets," which implicate the Syrian government in the alleged Douma attack. Washington also referred to the questionable claims that "the Syrian regime has repeatedly used chemical weapons to compensate for its lack of military manpower."
Earlier, the US State Department claimed to have proof that the Syrian government was behind the alleged chemical attack in Douma. However, it refused to make the intelligence public, as "a lot of this stuff is classified at this point." Moscow repeatedly dismissed the claims, saying the chemical weapon attack was orchestrated. The Russian military previously warned of a "provocation" involving chemical weapons being planned by militants.
How did the Syrians respond?
Syrian air defenses did all they could to protect the country. Ruptly footage has emerged showing Syria's surface-to-air missiles responding to the attack. Russian military said later Syrian air defense units downed 71 out of 103 cruise missiles launched by US and its allies.
Damascus harshly condemned the bombing, saying it will never bow to the West's attacks on its sovereignty. Syria's UN envoy, Bashar Jaafari, accused the US, UK, and France of blatantly violating the UN Charter. "I would clarify here that the history of these three states is built on using lies and fabricated stories to wage wars in order to occupy states, seize their resources, and change governments in them by force," he said, as cited by Syria's SANA news agency.
Russia warns of consequences
While none of the cruise missiles launched by the US and its allies reached the Russian air defense zones, the strikes sparked outrage in Moscow.
Russian Foreign Ministry Spokeswoman Maria Zakharova said the US-led strikes hit a war-ravaged country "that has been trying to survive terrorist aggression for many years." In a statement posted on Facebook, she compared the invasion to the start of the 2003 Iraq War, which was based on claims that Iraq was developing weapons of mass destruction.
The defense ministry said the Russian forces did not deploy their air defense systems stationed in Syria to intercept the American, British, and French missiles. For its part, Chairman of the Joint Chiefs of Staff General Joseph Dunford said the Pentagon "specifically identified targets" to "mitigate the risk of Russian forces being involved." The coalition did contact their Russian counterparts to "deconflict airspace," but did not "coordinate targets" with Moscow
.
A Rússia alerta sobre consequências
Enquanto nenhum dos mísseis de cruzeiro lançados pelos EUA e pelos seus aliados chegou às zonas de defesa aérea russa, os ataques provocaram indignação em Moscovo.
A porta-voz do Ministério dos Negócios Estrangeiros da Rússia, Maria Zakharova, disse que os ataques liderados pelos EUA atingiram um país devastado pela guerra "que está a tentar sobreviver à agressão terrorista há muitos anos". Num comunicado divulgado no Facebook, ela comparou a invasão ao início da Guerra do Iraque, em 2003, baseada em alegações de que o Iraque estava a desenvolver armas de destruição em massa.
O Ministério da Defesa disse que as forças russas não instalaram os seus sistemas de defesa aérea estacionados na Síria para interceptar mísseis americanos, britânicos e franceses. Por sua vez, o chefe do Estado Maior das Forças Armadas, General Joseph Dunford, disse que o Pentágono "identificou especificamente os alvos" para "minimizar o risco de envolvimento das forças russas". A coligação contactou os seus colegas russos para "desactivar o espaço aéreo", mas não "coordenou alvos" com Moscovo.
Ao usar a força, Washington está apenas a provocar uma nova onda de refugiados,da Síria e de toda a região, à procura de asilo, de acordo com o líder russo.
Tradutora: Maria Luisa de Vasconcellos