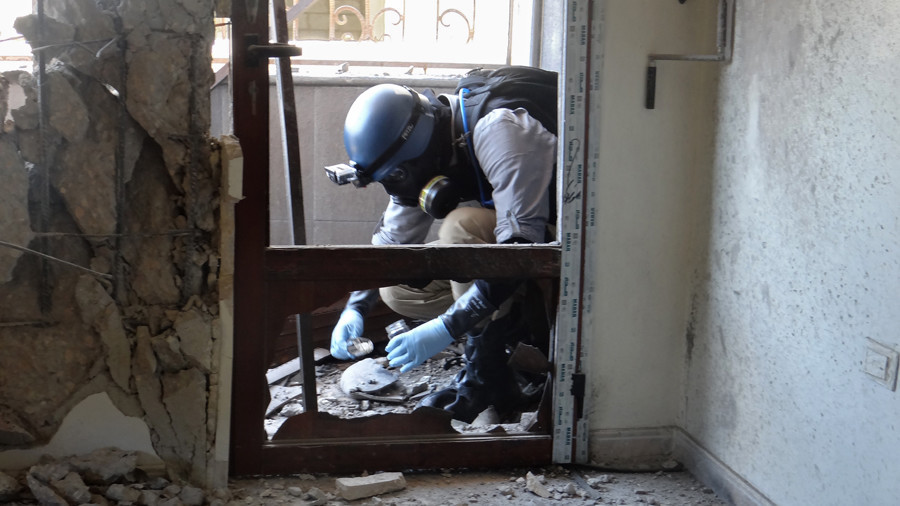 The international chemical weapons watchdog will send a fact-finding mission to Douma, Syria, to investigate the reports of an attack there. The move follows calls from Moscow and Damascus to launch an international investigation.
"Today, the OPCW Technical Secretariat has requested the Syrian Arab Republic to make the necessary arrangements for such a deployment. This has coincided with a request from the Syrian Arab Republic and the Russian Federation to investigate the allegations of chemical weapons use in Douma. The team is preparing to deploy to Syria shortly," the Organization for the Prohibition of Chemical Weapons (OPCW) said in a statement on Tuesday.
The incident allegedly occurred in the Damascus suburb of Douma on Saturday. It was reported by several rebel-linked activist groups, including the controversial White Helmets, who accused the Syrian troops of dropping chlorine-filled munitions on the area. They also claimed it affected dozens of civilians, and footage of children being allegedly treated for poisoning has appeared online.
Damascus has called the alleged attack a "fabrication." Russian military specialists have explored the area as Jaysh al-Islam militants occupying Douma began to evacuate from the city as part of a Russian-brokered deal with Damascus. Moscow said the specialists had found no traces of chemical weapons or any victims treated for chemical poisoning.
The OPCW's announcement came shortly before an expected UN Security Council meeting on the alleged Douma incident. Both Russia and the US are expected to roll out draft resolutions calling for an international investigation into the purported attack. On Monday, the UN said it was unable to "independently verify the allegations" regarding Douma.
"We're not in a position at this point to independently verify the allegations but, obviously, any allegation of continued use of chemical weapons is extremely, extremely troubling," Stephane Dujarric, spokesman for UN Secretary-General Antonio Guterres, said.