Julian Assange arrested after Ecuador tears up asylum deal
Published time: 11 Apr, 2019 09:38
Edited time: 11 Apr, 2019 09:58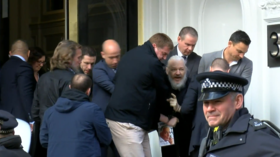 WikiLeaks founder Julian Assange has been dragged out of the Ecuadorian Embassy in London where he has spent the last six years. that's after Ecuador's president Moreno withdrew asylum.
That's only a day after WikiLeaks Editor-in-Chief Kristinn Hrafnsson claimed that an extensive spying operation was conducted against Assange in the Ecuadorian Embassy. During an explosive media conference Hrafnsson alleged that the operation was designed to get Assange extradited.
Assange's relationship with Ecuadorian officials appeared increasingly strained since the current president came to power in the Latin American country in 2017. His internet connection was cut off in March of last year, with officials saying the move was to stop Assange from "interfering in the affairs of other sovereign states."
Read more