'Arrogant & illegal': Lavrov denounces US military's oil moves in Syria at Russian-Turkish-Iranian press event
29 Oct, 2019 20:42

/ Updated 6 seconds ago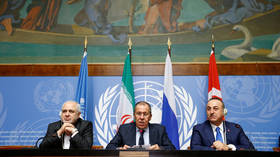 The US was "arrogant" to send its troops to guard oilfields in Syria, Russian Foreign Minister Sergey Lavrov has said, adding that it remains unclear from whom the installations need to be protected.
The actions of the Americans in Syria violate international law, as their presence in the country is "illegal," Lavrov reiterated, appearing alongside his Iranian and Turkish counterparts at a press-conference in Geneva, Switzerland.
The statement that this [US] presence is needed to protect the oil riches of Syria is arrogant. It turns out that they are being protected from Syria itself.
Washington's claims that oilfields needed protection from Islamic State (IS, formerly ISIS/ISIL) terrorist group were just a pretext to backtrack on the withdrawal of the US troops from Syria, which was earlier announced by Donald Trump.
Such statement sound especially confusing as "back in March, the US already announced that Islamic State is defeated, crushed," he reminded.
ALSO ON RT.COM
Russian MoD says US protects oil smugglers in Syria, offers aerial images as pr
oof