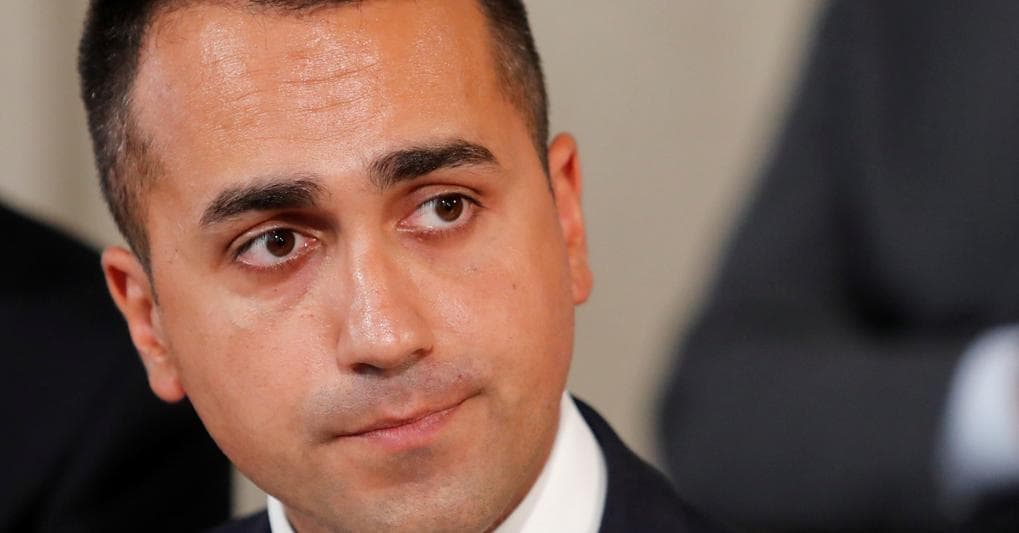 Hvad skete der med Luigi Di Maios anti-nukleare forpligtelse?
af Manlio Dinucci
Er der endelig en udenrigsminister, som vil forpligte Italien til at tilslutte sig FN traktaten om forbud mod atomvåben?
Den nyvalgte minister Luigi Di Maio underskrev i 2017 Ican* Parliamentary Pledge**, den internationale koalition, som modtog Nobels Fredspris [1]. Ved at gøre det har Femstjernebevægelsens politiske leder - nuværende udenrigsminister - forpligtet Italien til at "fremme underskrivelse og ratificering af denne traktat af historisk vigtighed"
Ican forpligtelsen blev også underskrevet af andre nuværende femstjerne-ministre - Alfonso Bonafede (justitsminister), Federico D'incà (parlamentariske forhold), Fabiana Dadone (embedsmand) - og andre femstjerne-parlamentarikere som Roberto Fico og Manlio Di Stefano.
Men der er et problem. Traktatens artikel 4 angiver: "Enhver stat, som har atomvåben ejet eller kontrolleret af en anden stat på sit territorium, skal sikre den øjeblikkelige tilbagetrækning af sådanne våben". For at imødegå FN traktaten, bør Italien bede USA om at trække B-61 atombomberne tilbage fra dets territorium (hvilket allerede overtræder Ikke-spredningstraktaten) og ikke at indsætte de nye B61-12 atombomber eller andre atomvåben. Da Italien desuden er en af de lande, som (hvilket NATO selv påpeger) "forsyner Alliancen med fly indrettet til at bære atombomber, som USA har suveræn kontrol over, og med stabe trænet til dette formål", bør Italien anmode om at blive undtaget fra denne funktion for at kunne imødegå FN traktaten.
Utænkelige krav fra den anden Conte-regering, som i lighed med den første betragter USA som en "privilegeret allieret".
Her er det, hvor kortene vises. Ican forpligtelsen blev underskrevet i Italien af mere end 200 parlamentarikere, hovedsagelig fra Pd (Partito Democratico) og Femstjernebevægelsen, de nuværende regeringspartier. Med hvilket resultat?
19. september 2017, dagen før traktaten blev åbnet for underskrivning, godkendte Huset et Pd forslag (også stemt for af Forza Italia og Fratelli d'Italia), som forpligtede Gentiloni regeringen til at "evaluere muligheden" for at tilslutte sig FN traktaten. På sin side bad Femstjernebevægelsen ikke om imødegåelse af FN traktaten, og dermed tilbagetrækning af atomvåben fra Italien, men om at "erklære Italiens umulige forpligtelse til at bruge atomvåben og om ikke at købe de nødvendige komponenter til tilpasning af F-35 flyene til transport af atomvåben". Ergo: at F-35 flyene, bestemt til atomangreb især med B61-12 bomber, bruges af Italien med en sikkerhed om, at de ikke kan bruges til atomvåben.
Den følgende dag afviste og angreb det Nordatlantiske Råd med fuld italiensk støtte FN traktaten. Den er indtil videre blevet underskrevet af 70 lande, men på grund af pres fra USA og NATO kun ratificeret af 26 lande, mens der kræves 50 landes tilslutning for at kunne træde i kraft.
Det samme skete med traktaten om mellemdistance atomstyrker, som blev begravet af Washington. Enten var det i NATO's, FN's eller EU's hovedkvarter, at den første Conte-regering bakkede op om den amerikanske beslutning, der gav grønt lys for opstilling af nye amerikanske atommissiler i Europa, og i Italien.
Det højtidelige tilsagn forpligtet af Pd, Femstjernebevægelsen og andre har derfor, baseret på analysen af fakta, vist sig at være et demagogisk middel for at samle stemmer. Hvis det for nogen af dem ikke er tilfældet, så lad dem vise det reelt.
På grund af den "uundgåelige forbindelse med USA", bekræftet i går af Conte i hans tale i Huset, finder Italien sig frarøvet dets egen suverænitet og er omdannet til frontlinjen i den amerikanske atomstrategi. Med flere partiers konsensus og medskyldige tavshed.
il manifesto, 11 September 2019
[1] "The Myth of a Denuclearized Nato", af Manlio Dinucci, oversat af Anoosha Boralessa, Il Manifesto (Italien) , Voltaire Network, 20. november 2017.
* Ican: International campaign to abolish nuclear weapons (international kampagne for afskaffelse af atomvåben).
** Parliamentary Pledge: Parlamentarikere, som arbejder for gennemførelse af traktaten om forbud mod atomvåben.