Restrictions on arrivals from overseas are toughened in a bid to hold back a second wave of the Covid-19 pandemic

China is now reporting more imported new cases than domestic infections
Published: 11:59am, 19 Mar, 2020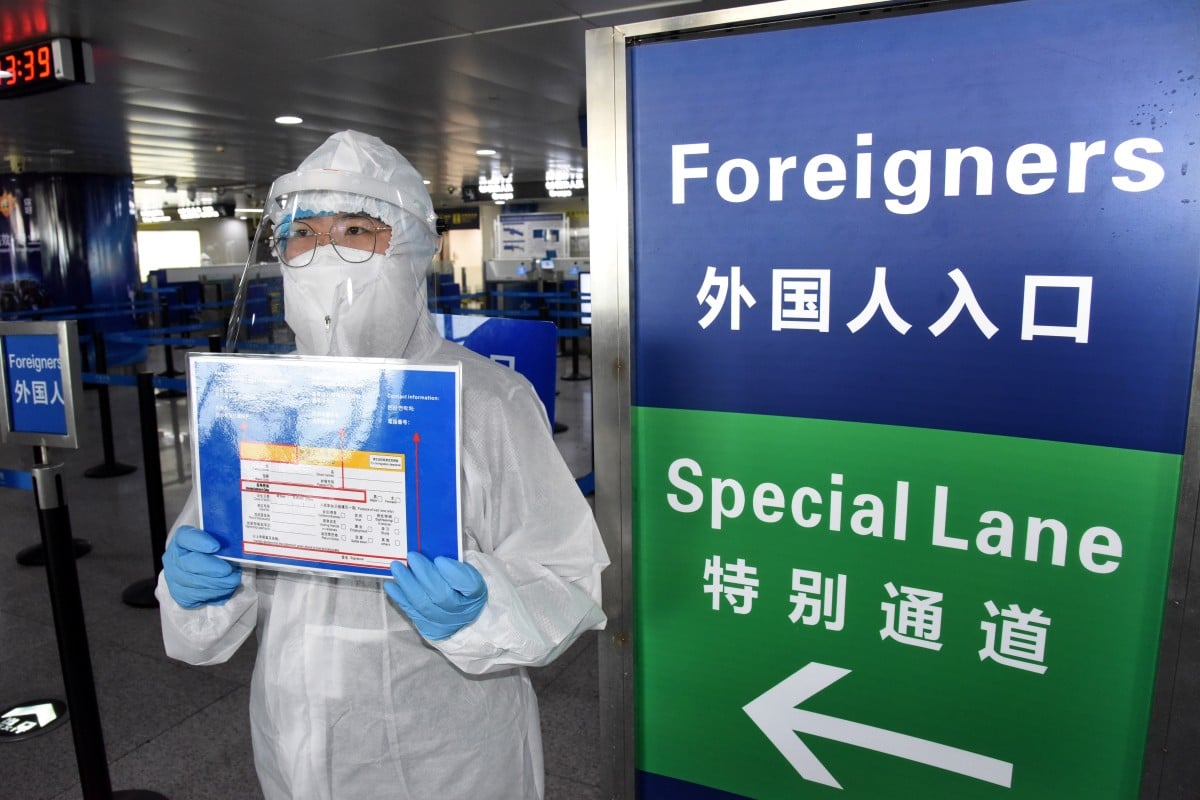 Travellers arriving from overseas are now subject to strict quarantine rules in Beijing and Hong Kong in a bid to prevent a second wave of the coronavirus pandemic. Photo: Xinhua
Beijing and Hong Kong are toughening up their 14-day quarantine restrictions as a second wave of the
Covid-19
pandemic returns to China, brought by homecoming citizens and visitors from overseas and threatening to push up infection rates that had been coming under control.
"If we do not impose tougher measures at this stage, our previous efforts to prevent the disease from spreading throughout these two months could be completely wasted," Hong Kong Chief Executive
Carrie Lam Cheng Yuet-ngor said on Tuesday.
For the past five days, China has reported more imported cases than local infections, with the mainland reporting zero domestic cases on Thursday for the first time since the outbreak began. There were 34 new infections, all from overseas.
Hong Kong saw 25 new cases on Wednesday, the highest single-day increase, with most of them coming from outside the special administrative region.
Beijing, Hong Kong and Macau have all responded with tighter and expanded rules on quarantine, or self-isolation, for arrivals.
In Hong Kong, from Thursday, all arrivals must undergo a 14-day self-isolation at home followed by two weeks of medical surveillance. Similar measures have been announced by Macau's authorities.
Arrivals in Hong Kong are now required to wear an electronic wristband and download an app to monitor their movements. An alert will be sent to the Department of Health and the police if a wristband is broken or the user's smartphone is disconnected or moves away from the quarantine dwelling, according to the government's chief information officer.
"The purpose of self-isolation is for individuals who may be infectious to reduce risk to others by minimising contact with others – for example, travellers from affected areas," said Dr Clarence Tam, an assistant professor from National University of Singapore's Saw Swee Hock School of Public Health.
The standard 14 days of quarantine for Covid-19 is based on the average incubation period of the disease, which is five days, Tam explained.
"An individual who hasn't developed symptoms by the 14th day of quarantine has a very low probability of being infected or of posing an infection risk to others," he said.
Fang Tianyu, a Beijing student whose Boston high school shut due to the epidemic, returned home last Saturday. He arrived before the latest rules came into effect and has been able to quarantine at home instead of in a designated accommodation.
Fang flew with Hainan Airlines and spent around four hours going through border control and health checks at the airport, before he was cleared at a quarantine processing point. He was picked up by his parents and is staying with them.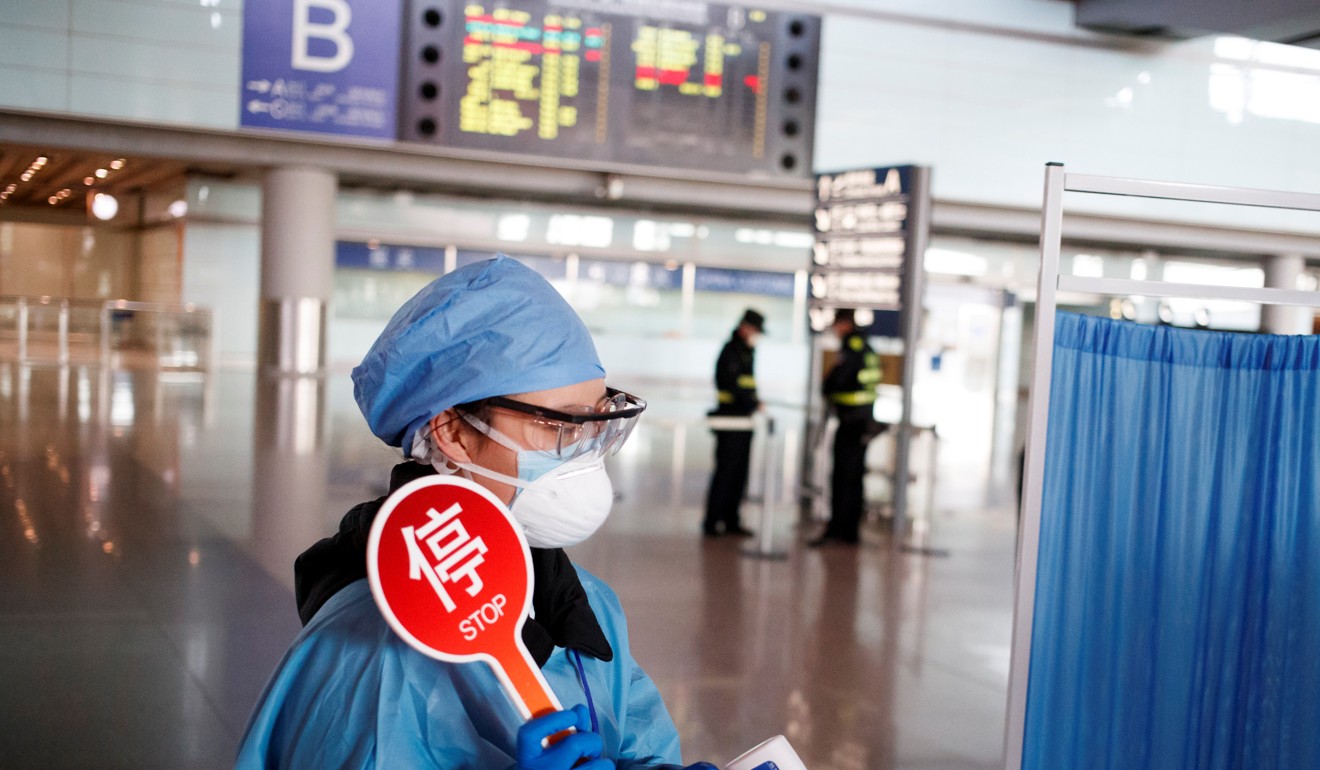 A staff member in protective gear at a temperature check station in the arrival hall at Beijing's Capital Airport. Photo: Reuters
If he could do it again, Fang said, he would choose the now-mandatory option of staying at a hotel to protect his parents.
"I think it would have been much more responsible. I have friends who chose to go to a hotel when they could have gone home, because they live with their grandparents," he said.
Fang spent his 19th birthday in quarantine, celebrating with a Corona beer and a bowl of dumplings. He joked that quarantine was a great excuse to not socialise with people.
Fang said there were guards at his residential complex and neighbours were also watchful. He is required to send his temperature to a community worker every day and the guards bring him deliveries and takeaway food while he is not permitted to leave his apartment.
Fang said he was aware of a WeChat group for residents and they had talked about him as the person who had returned from the US. "I'm pretty sure half my residential compound knows that I have come back from a foreign country," he said.
Beijing's municipal government has introduced an app called Health Bao, or Health Treasure, which generates a user's status as "red: under centralised observation", "orange: home observation" or "green: normal". There are usually staff in public areas and apartment complexes checking people's status before entry or exit.
If they find someone under observation who is not supposed to be outside, staff are directed to call the Centre for Disease Control or the person's residential compound.
The app uses data collected by the CDC and various residential compounds in Beijing. While it is not mandatory, it makes the movement of residents within the city more convenient, according to the municipal government.
Coronavirus: Which countries and regions in the world are most at risk in the Covid-19 pandemic?
Despite his long wait at Beijing's Capital Airport, Fang said he knew of others who had worse experiences. A friend of his was in mid-air when the rules changed, arriving to an eight-hour wait at the airport.
Fang said the greater awareness of the disease in China – compared to the US and Canadian airports he travelled through on his way home – was clear. No airport staff had been wearing protecting gear in either Boston or Toronto, he said.
"Several border control agents in the US got infected, which I think they should have seen coming, because they were at international airports and not wearing protection," Fang said.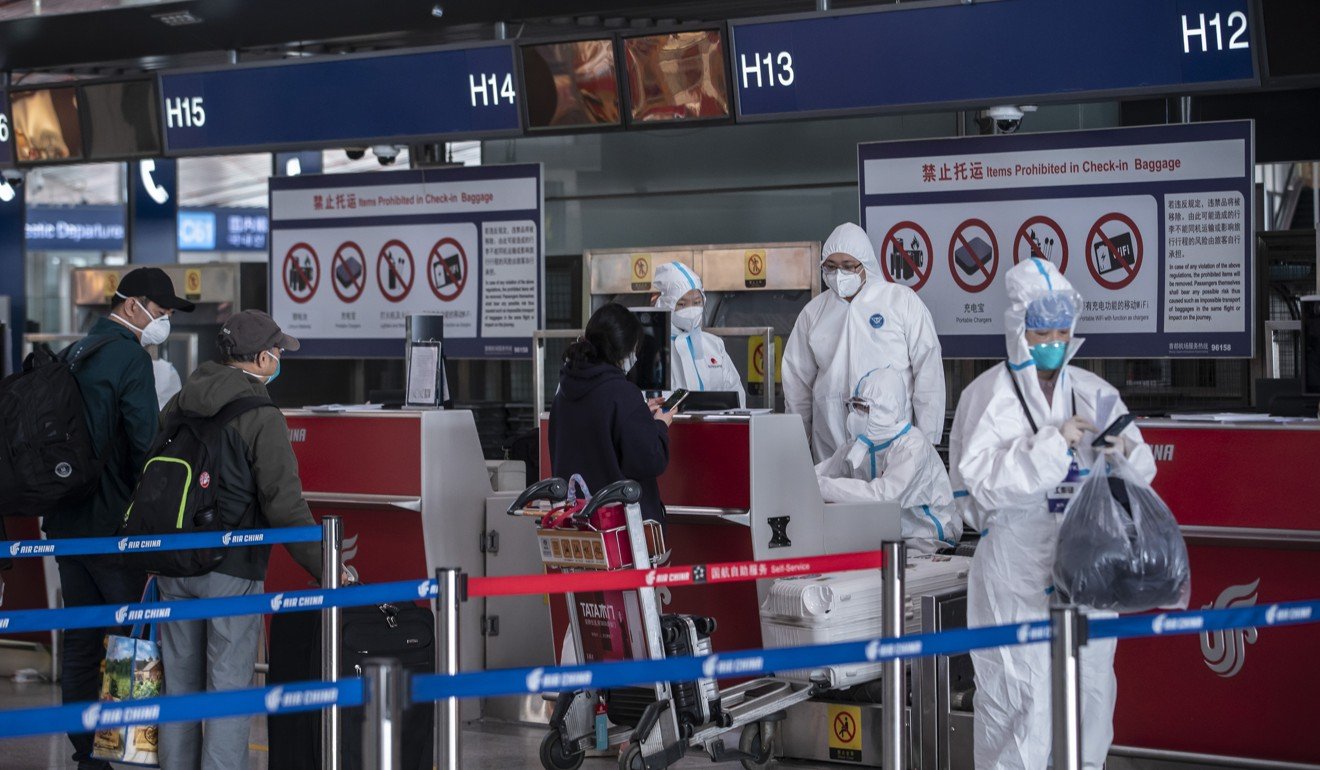 Airport employees in protective suits at Beijing's Capital Airport. Photo: Bloomberg
There have been reports of coronavirus infections among airport staff and TSA agents across the US, including in Atlanta, Orlando and Fort Lauderdale.
While the mainland and Hong Kong ramp up quarantine and social distancing rules to try and contain the virus, it is now a pandemic and may be here to stay, Tam said.
"The prevailing view is that it's unlikely the transmission can be reduced to a level where the virus will not become entrenched in the human population, as was done with Sars."